RDSME Crust 3
16TH APRIL 2021: 3RD COLLOQUIUM FOR YOUNG RESEARCHERS IN UNDERGROUND SCIENCE AND TECHNOLOGY (CRUST 3)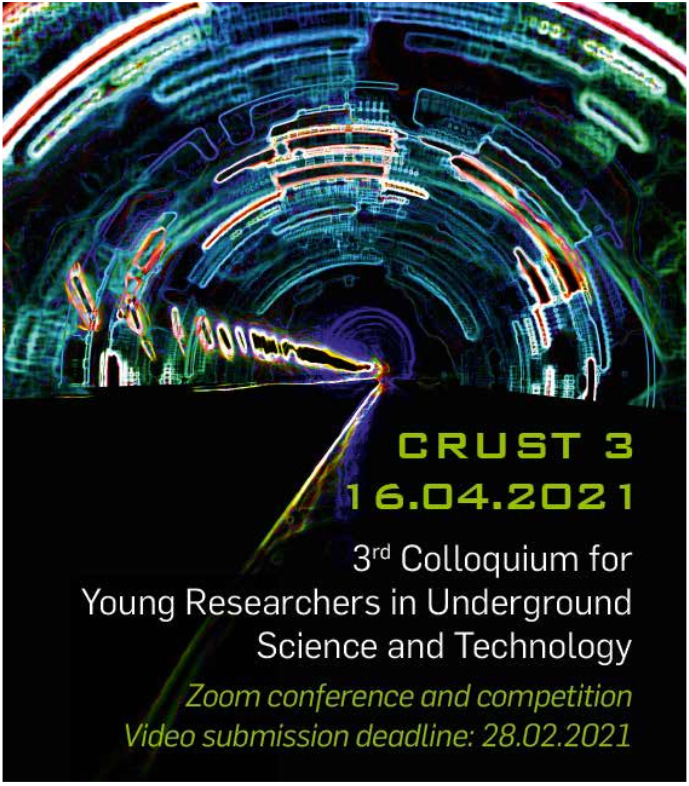 Since 2018, the Research Department organizes a Colloquium for Young Researchers in Underground Science and Technology (CRUST) in the winter semester. This colloquium not only provides networking opportunities but it is also an excellent forum for young researchers to exchange ideas, foster debates, present results and discuss problems and challenges in their research work. CRUST 1 was held on 14 th Dec 2018 with 3 minisymposia (11 presentations in total) and 10 poster presentations. CRUST 2 was held on 10 th January 2020. CRUST 1 and CRUST 2 were event, which were restricted to participants who are members of the RD SME.




CRUST 3 – DIGITAL EVENT AND COMPETITION
CRUST 3 will be an international, fully digital event, which is open to all researchers in the field of subsurface engineering. Participants are invited to submit a 10-minute video summarizing their research work. The three best video presentations will be awarded by providing support for the research projects equivalent to 1000 €. Participants who are members of the Ruhr-University Bochum will, however, receive an equivalent sum as project funds. The winners of the competition will present their research work in CRUST 3 which will be held as an online event (Zoom Conference) on 16th April 2021.
WHY PARTICIPATE IN CRUST 3?
• Increase the visibility of your research.
• Receive feedback regarding your research work.
• Registration fee - 0 €.
• Best video awards including project funds up to 1000 €.
SUBMISSION GUIDELINES
• A 10 minute video presentation with a thematic relation to subsurface engineering (characterization, utilization or a related field) has to be submitted to sme-crust@rub.de before 15th March 2021 using a file sharing platform (WeTransfer, Google Drive, Dropbox, etc.).
• The winners of the competition will be announced on 31st March 2021 and will be invited to present their results in the CRUST 3 Zoom Conference, which will be held on 16th April 2021.
RDSME Youtube Channel
• In order to keep up the open-access spirit and to reach a wider audience, all submissions will be made available on the RDSME YouTube channel